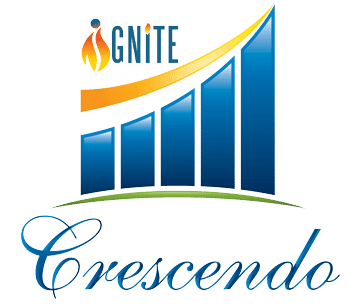 Take the best of what Ignite Websites Marketing and Graphic Design has to offer, combine them into one laser-focused, results-oriented program, and discount it. Watch your business or practice take off and thrive. That's Crescendo!
Crescendo is Ignite's exclusive and comprehensive Brand Identity, Custom Website Development, Enhanced Internet Marketing & Social Media and Social Media Training service. This exciting service is offered at a great discount below what it would be if you were take advantage of each of these services separately. By creating strong branding, a custom designed, market-focused website, and following through with expert Social Media / Marketing, this service has helped scores of new businesses or practices - and even established ones - get that major boost that is needed to fly to the next level and accomplish their goals!
Here's What's Included with Crescendo
STEP 1 - We Create Your Brand Identity
Custom Designed Logo creation. It all starts with creating an original and recognizable brand identity that is keenly representative of you, your product, practice, business or service, and the feeling you want your target audience to get. Getting this right from the start is vital! Click here for a full description or here to see some sample logos.
250 free Custom Designed Business Cards that incorporate your new logo - designed, printed and delivered. Click here to see some sample business cards.
Add-On: Other Graphic Design & Print Materials including Custom Designed Brochures and/or Large Postcards, Signage, Thank You Cards, Letterhead and other print materials designed for marketing and promoting. Click here to learn more.
STEP 2 - We Get You Online Through Expert Web Development & Super-Fast and Secure Hosting
Custom Designed, Brand-Driven, Fully Optimized, High-End Website. As opposed to so many cookie-cutter websites that do not stand out, from your branding to your online presentation, you must stand out as better and unique - and the right website will do that (and the wrong one can defeat that). Click here for more information about our amazing websites and the results you should expect.
Website Hosting on our super-fast, highly secure servers.
Microsoft Exchange Email Address and business organization tools. Click here to learn more.
Add-On: Optimized Content Writing and/or Editing. Click here to learn more.
STEP 3 - We Bring It All to Life Through Enhanced Internet Marketing & Social Media!
Social Media Implementation and Strategies - a crucial part of taking advantage of how the Internet will help your business or practice grow - along with gaining your website more visibility and ranking in the search engines. Click here to learn more.
Social Media Bootcamp includes 10 hours of one-on-one support and training by our social media expert. All the tools and everything you need to know to get more visibility and help your business or practice grow through the best use of social media! Click here for all the details.
Your Custom Designed Blog will maintain the look and feel of your website and is a crucial part of your Internet Marketing. You will be trained on best practices for using your Blog through the Social Media Bootcamp. Click here to learn more.
The exclusive Concepts Dynamic Analytics & Statistics (CDAS) will help keep you informed regarding your website visits, campaigns, Internet Marketing efforts and a wealth of other information. Click here to learn more about CDAS.
Regular Reviews and Free Marketing Consultations will keep you up to date on the newest and best methods for getting the most out of your website. If you have a campaign that you'd like to launch, whether online or offline, consult with me first so I can lead you in the right direction to get the best results!
CLICK HERE TO START YOUR CRESCENDO SERVICE