Ignite Therapy Sites. Websites, Branding and Internet marketing for Counselors, Therapists, Psychiatrists and all Mental Health Professionals
Visit our Ignite Therapy Sites website dedicated our services for Psychotherapy and Mental Health Professionals! IgniteTherapySites.com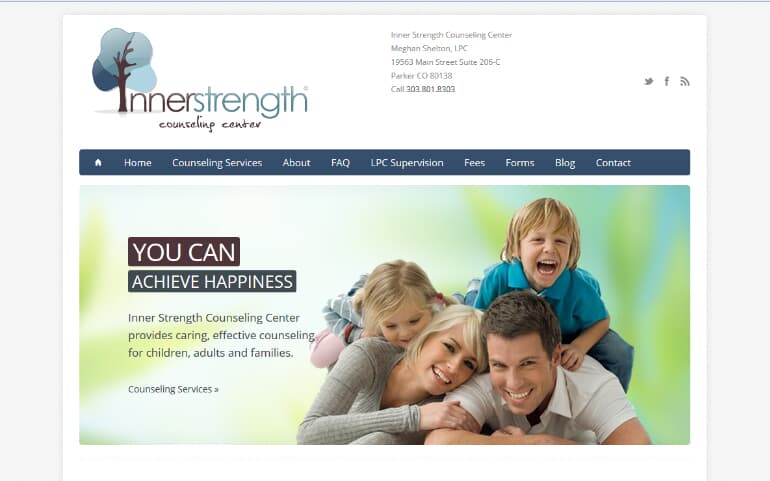 IGNITE THERAPY SITES WEBSITE
My passion for the mental wellness industry translates into my service developed specificlly for this field!
If you've browsed through this website, you have probably noticed that I like to show off my work in website development for therapists, counselors and those in this industry. I've created countless brand identities, logos, and Internet marketing strategies for this fun and interesting field. This is such an interesting industry and I know more than most what it takes to develop a strong presence online and through branding. A unique approach in this highly competitve industry is one that I've developed and has had amazing results for my clients!
You've worked hard.
You've studied hard. You've spent time in clinical settings. You've earned your share of the alphabet touting your hard-earned education, credentials, and certifications. You have fine-tuned your skills. And the studying and earning of new credentials never ends. You've taken the leap into starting your own practice or you've been in practice for a good while but need a boost! Now what?
A crucial part of getting started or growing your existing practice means you must be online in a significant way. And that means more than just a Facebook page, Twitter account or Blog. It means that you must have a website that perfectly and professionally represents you and your practice in order to attract the kinds of clients you are seeking. You need more than a watered-down, templated, one-size-fits-all website that so many fall back on with very little attention paid to truly effective marketing. You must stand out above the rest! Whether you specialize in family counseling, substance abuse counseling, psychotherapy, psychology, psychiatry or other types of therapy, the way you present yourself online through your own website is vital. The wrong website or presentation can actually hurt you. Often, just to get a presence online, many in these fields have acquired websites that are just, well, bland - and do not represent the quality practices that have been developed. But, the right website with the right representation can help your practice grow quickly!
And that's where Ignite Therapy Sites helps.
I understand your audience and have years of experience creating websites and branding that grab their attention and inspire them to take action.
Whether your specific audience is potential clients or patients or your focus is on services for other colleagues or professionals, I help you get people to your website, keep them on the website and take some sort of action, such as contacting you through the website or picking up the phone and calling. The focus is on messaging, action and growth of your business. The system I have developed has resulted in a great reputation based on the quality of websites I build and the results they produce. I use a combination of branding through excellent, creative custom logo design and modern, custom-designed websites that have the look and feel that represent you and your practice.
Our Mental Health Clients Receive
Analysis / Consultation First, I will analyze your current branding (focusing on your current logo if you have one), your website (if you have one) and your current online marketing strategies along with your goals. I take this time to learn about you, your practice, areas of mental health or therapy in which you specialize and determine your audience.
Recommendations Based on what is learned from our consultation and analysis, I will make my recommendations. You may only need to implement some cost-effective, results-based marketing strategies. Or, you may need to start from scratch and have a logo developed, a new website and marketing. Whatever I recommend, it is, of course, up to you to decide what you would like to do.
Implementation Now the fun begins! As you can see, I truly take an interest in the success of every one of my clients and have a great reputation for that. Whatever your project may entail, I keep you up to date every step of the way. From logo creation, to website development, to the execution of any marketing campaigns, my sights are set on your success! To get more detailed general information about any of my services or products, please browse the rest of the website. Otherwise, it's time to get in touch! Feel free to give me a call at 720.464.4617 or CLICK HERE to complete the contact form.
SAMPLES
GET STARTED!