Ignite's websites, branding and Internet marketing for Chiropractors, Physical Therapists, Sports Medicine and Injury Care Professionals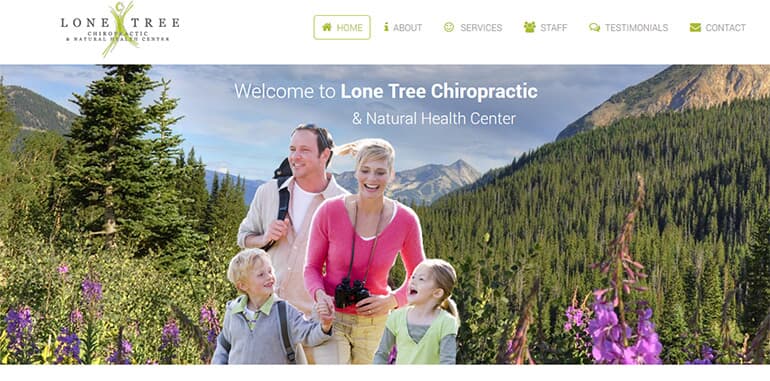 Over 15 years ago, my first websites were for chiropractors looking to gain a better presence on the Internet.
Since then, Ignite Websites Marketing and Graphic Design has grown into what it is today. From that foundation, Ignite continues to be a leader in unique and effective web development and Internet marketing for chiropractors, physical therapists, injury care professionals and all those in the health and wellness industries!
While the foundation and principles for gaining a strong web presence and business growth through the use of the Internet is the same for most industries, the chiropractic industry is quite different. While there is a lot of competition amongst chiropractors, I've learned that chiropractors are not typically competitive folks by nature. But... I am! While my chiropractic and wellness clients are able to focus on running their practices and providing much needed care, I take care of all things Internet - from high-end, attention-grabbing, unique websites (unlike the typical cookie-cutter, stale, one-size-fits-all chiropractic websites) to SEO and Internet marketing strategies. If you truly excel in your practice, your website, branding and presentation should reflect that. And that is one important way for you to gain new clients!
Stop the spinning spines!
There are many variations, but the spinning or rotating spine is tired and overused. That is one of the pitfalls of clinical websites. They are often too technical with the focus on things that are not important to a potential client. Everyone who uses the various large-company chiropractic website providers has the spinning spine. And all of those websites look and act the same. I have learned that the best approach is to take one that immediately shows your practice as one that is unique and stands out among the rest. The feeling should be one that puts potential clients at ease and keeps them on your website as opposed to moving on to the next. The main objective, of course, is that the potential client becomes an actual client. The right website and branding can help accomplish that. And that is precisely what Ignite does.
I have often found that chiropractic websites focus on the wrong information or the presentation is lacking in really selling the value of their practice. In-depth descriptions of what your techniques may be and what vertebral subluxation complex is - these are things that can be included somewhere on the website, but should not be the focal point. People will seek the help of a chiropractor normally when they are in pain. The same applies to physical therapists and other wellness providers. They want to see that they can feel better and that you are the most competent one to fix them. The right presentation can handle that. The same applies to those who are in sports medicine (although these websites can sustain a more technical presentation), physical therapy, and accident and injury care.
Our Chiropractic & Wellness Clients Receive:
Analysis / Consultation First, I will analyze your current branding (focusing on your current logo if you have one), your website (if you have one) and your current online marketing strategies along with your goals. I take this time to learn about you, your practice, areas in which you specialize and your determine your audience.
Recommendations Based on what is learned from our consultation and analysis, I will make my recommendations. You may only need to implement some cost-effective, results-based marketing strategies. Or, you may need to start from scratch and have a logo developed, a new website and marketing. Whatever I recommend, it is, of course, up to you to decide what you would like to do.
Development & Implementation Now the fun begins! As you can see, I truly take an interest in the success of every one of my clients and have a great reputation for that. Whatever your project may entail, I keep you up to date every step of the way. From logo creation, to website development, to the execution of any marketing campaigns, my sights are set on your success! To get more detailed general information about any of my services or products, please browse the rest of the website. Otherwise, it's time to get in touch! Feel free to give me a call at 303.214.5321 or CLICK HERE to complete the contact form.
SAMPLES
GET STARTED!